GOPIKRISHNA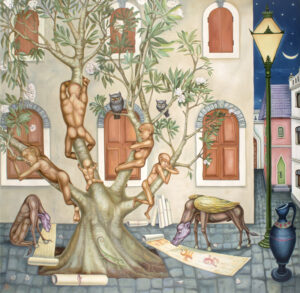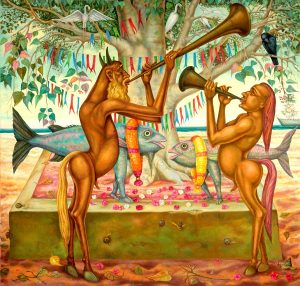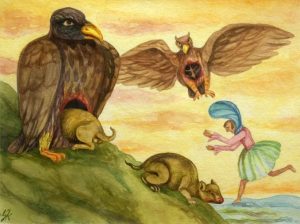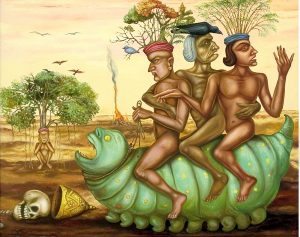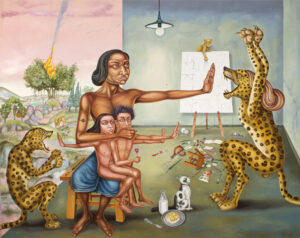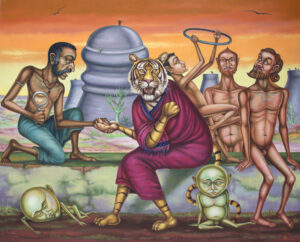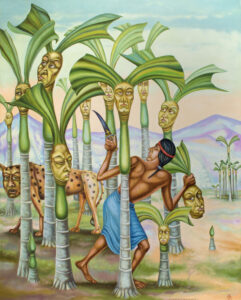 Gopikrishna graduated with a BFA from the College of Art, Trivandrum (1987) and MFA from the College of Art, New Delhi, (1995). At both institutions, he preserved a distance from the ideologues of the Radical Group, preferring to explore the tangled mysteries of his cultural inheritance without losing them to the certitudes of any ideology. He won the Kerala State Award for Drawing from the Lalit Kala Akademi, 2000 and the All India Fine Arts Society Award, 2002.
His paintings appear as though they were pages from a book of fairy tales. In his surrealistic canvas, one can witness the ordinary and the impossible, unity and solitude, illumination and darkness. To enter the pictorial world of Gopikrishna is to be plunged into a pageant of extraordinarily animated fables peopled by monsters, chimaeras, sages, pilgrims, warriors and actors. Gopikrishna's tableaux are all the more compelling for having been executed in a palette of subtle, lambent greens, pinks and blues that would have been subdued in themselves, had they not been employed to clothe the phantasmagorical creatures that they do. Gopikrishna's vocabulary draws on a multitude of sources – on the occult manuscript, the folktale, the Tamil theatre backdrop, and the Kerala temple painting tradition. Some of these sources are embedded in the artist's childhood memories, while he discovered the others as an art student. As a boy, Gopikrishna was enchanted by the books in his father's library, which introduced him to such standard-bearers of the Italian Renaissance as Raphael, Botticelli and Piero di Cosimo. The artist focused on giving visual form to the compelling fictions that preoccupied him, bearing witness to the archetypal figures of the Old Man, the Old Woman, the Shapeshifter and the Twins, aspects of the unconscious, guardians of dream and waking, that recur in his paintings.
The artist's solo exhibitions with Art Musings include Anything Can Happen, 2022; Perceptions from the Precipice, 2013; Carnival of Rising Emotions, 2010; and Dream Conservatory, 2007. Group Exhibitions with Art Musings include India Art Fair, 2023, '16, '12, '11; Strange and Sublime Addresses, 2019; The 20th, 2019; BLACK/white, 2017; Quarto'15; 2015; Art on Sunday, 2009. He has participated in group exhibitions in India, Singapore and New York. The artist lives and works in Trivandrum.
Past Exhibitions with Art Musings